Easter Eggs with Chicks
I designed these Deviled Eggs for Easter to look like chicks in their egg shells.
Illustration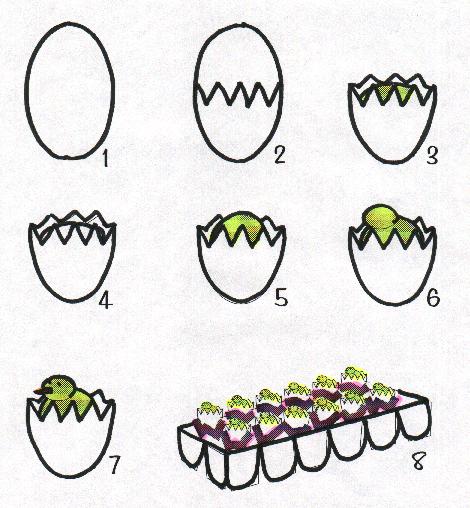 (1) Boil, cool and peel 6 eggs.
(2) Use sharp knife to cut through egg ash shown in illustration 2.
(3) Carefully separate toe eggs into halves.
(4) Remove yolks. Thouroughly pulverize yolks, mix in mayonaise and mustard to bind. Beat until yolks are fluffy.
(5) Use piping tool of some sort to pipe a ball-shaped mound of yolk into each egg half.
(6) Pipe on a smaller ball of yolk off to one side.
(7) Use bits of carrot or sheese to form a beak and bits of olive or pickle to form eyes.
(8) Arrange your chicks on small squares of colored celophane in the wells of the bottom of an egg-carton for table presentation.
---
http://mystudio3d.com