THE PROJECT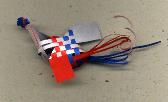 STEP 1
Cut two strips of paper or ribbon to meaure 1" wide and 11" long.
STEP 2
Measure 1" from one end and mark. Divide remaining 10" into long 1/4" strips and cut.


STEP 3
Fold top strip at right angle with outside edge meeting top of cuts. Weave (over self, under next, over third, under last)


STEP 4
Fold next strip at right angle with outside edge meeting the formerly folded strip. Weave (over self, under next, over last). Set aside.


STEP 5
Repeat steps 2-4 with second strip. Turn piece over.
STEP 6
Place pieces together so folded edges form a straight line.
STEP 7
Weave pieces together where strips cross.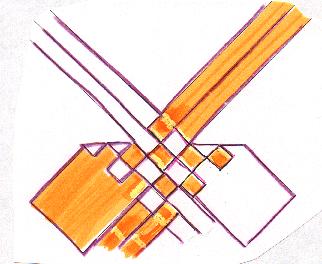 STEP 8
Lift two sets of two strips going off together and curl over to top. Weave as they cross each other (tip: when looking down on piece, if strip is on bottom coming off the lower layer, it will be on bottom coming onto top layer.)
STEP 9
Continue with all strips so you have a completed grid on top using all 8 strips.
SETP 10
Two pairs should be facing front and two facing back. Continue the weaving pattern as these cross the SIDES so you end up with an egg-shaped body having 4 strips together at the front and at the back.
STEP 11
The front of the bird is that of the original folded edges. Bring all 4 of the strips together and tie a knot and flatten. Trim end to form a beak.


STEP 12
Back end is that where wings sweep back. Cut each loose strip into 1/8" wide strips. Use scissors to curl tail ends.