Making "Bath Tea"
Bath Tea is a mixture of herbs and spices blended to enhance your tub-soaking experience. These blends are packaged in individual use bags made of coffee filters and packaged in tea-bag style envelopes. They make a great gift or a wonderful addition to a guest bath.
Construction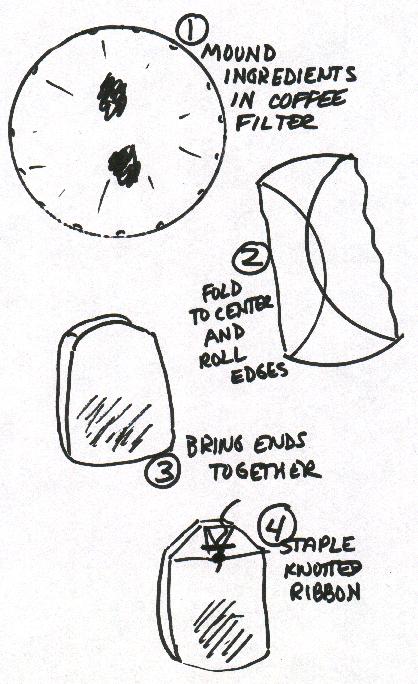 One of the recipes below is made up in a large batch. (1) One to one-and-one-half tablespoons are then placed in a round coffee filter in two mounds. (2) Bring the outside edges together and roll down on top of the mounds. (3) Bend filter between the mounds and bring loose ends together. (4) Tuck each corner in and staple, catching a knotted 1/8" wide satin ribbon in the staple. (You're making a 'flow-through' bag).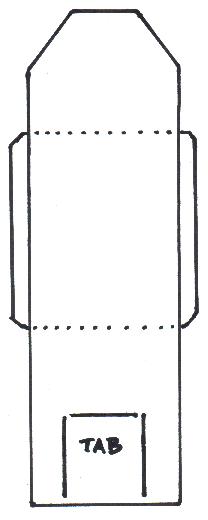 Enlarge folder template above to accommodate the size of your filled bags. Stamp or print the folders with decorative design, list of ingredients, and/or directions for use, as desired. Cut out folders. Use exacto knife to cut all but the smallest portion of each side of the 'tab'. Knot other end of satin ribbon attached to teabag. Staple to inside of tab. Assemble and glue folders. Tuck teabags into folders and seal.
Recipes
RELAXING SOAK
Equal parts:
dried basil
dried catnip
dried lavender
dried chamomile

RELAXING SOAK
2 parts Epsom salts
1 part baking soda
1 part borax

SKIN SOFTENING SOAK
5 parts oatmeal (powder in blender)
1 part dried lavender

SKIN SOOTHING MILK BATH
1/3 cup powdered milk
¼ cup salt
1 teaspoon orris root powder

STIMULATING SOAK
Equal parts:
dried peppermint
dried sage
dried rosemary
dried basil

TONIC CITRUS BATH
Equal parts:
dried orange peel
dried lemon peel
dried parsley
dried alfalfa

RELIEVES TIREDNESS
Equal parts:
dried fennel
dried marigold
dried sage

To Use
To use Bath Tea, remove teabag from envelope, hang under running water as tub fills. Lie back and relax as the mixture "works it's magic"!
---
http://mystudio3d.com